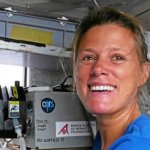 Engineer in molecular biology and microbial genetics
Position
In charge of molecular biology activities oversight, crop and experimental activities management and deployment of mutagenesis approaches applied to marine cyanobacteria within the "Marine Plankton Ecology" team of the UMR7144 Research Department.
UMR7144 prevention Officer
background
PROJECTS
CINNAMON 2018-2020
Oceans are strongly affected by global change, which notably causes an increase in seawater temperature and an expansion of iron (Fe)-poor areas, whilst Fe depletion is already impairing phytoplankton growth in as much as 35 % of the global ocean. This raises the questions of the capacity of local marine phytoplanktonic populations to adapt to these harsh conditions and of the consequences of Fe depletion on the ocean ability to sequester CO2 via the biological carbon pump. The discovery of genetically distinct populations of the marine cyanobacteria Synechococcus in +Fe vs. -Fe regions as well as high vs low temperature, constitutes a unique opportunity to unveil the effects of global change on phytoplankton.
The CINNAMON project will use a cross-scale approach to i) validate the occurrence of distinct Fe and/or temperature ecotypes within Synechococcus, notably by delineating the growth optima and boundary limits for Fe and temperature of representative strains, ii) decipher the genetic basis of their specific adaptability to changes in temperature and Fe availability using the numerous genomes available as well as transcriptomes generated in response to +Fe/-Fe, and iii) validate at the population level the observations made on representative strains, but also to identify additional genes and biosynthetic pathways potentially responsible for the capacity of these ecotypes to adapt to cold or warm, low-Fe regions of the world ocean using meta-omics data from major global ocean surveys covering a wide range of oceanic regimes (Tara Oceans, Tara Polar Circle, Tara Pacific and Malaspina expeditions). Results from CINNAMON will thus be of both evolutionary and ecological interest as they should allow us to better understand i) how iron availability has driven genetic diversification within picocyanobacteria, but also ii) the consequences of this diversification on the community composition and dynamics of these key organisms, in the context of global change.
The project involves the Roscoff MaPP team (L Garczarek, U. Guyet, D. Marie, F. Partensky, M. Ratin, C. Six), the LOMIC group from the Banyuls observatory (S. Blain, F.Y. Bouget, A. Guéneuguès, J.C. Lozano, P. Schatt), the COMBI group from the University of Nantes (S. Chaffron, D. Eveillard, U. Guyet, J. Haguait), the DYLISS team (A. Siegel) from the University of Rennes as well as the Roscoff ABIMS platform (E. Corre, M. Hoebeke, G. Le Corguillé).
http://www.sb-roscoff.fr/en/project-cinnamon.
ASSEMBLE Plus : 2018-2022 : http://www.assembleplus.eu
SAMOSA : 2014-2018
Oceans are particularly affected by global change, which can cause e.g. increases in average sea temperature and in UV radiation fluxes onto ocean surface or a shrinkage of nutrient-rich areas. This raises the question of the capacity of marine photosynthetic microorganisms to cope with these environmental changes both at short term (physiological plasticity) and long term (e.g. gene alterations or acquisitions causing changes in fitness in a specific niche). Synechococcus cyanobacteria are among the most pertinent biological models to tackle this question, because of their ubiquity and wide abundance in the field, which allows them to be studied at all levels of organization from genes to the global ocean. In SAMOSA, we planed to develop a systems biology approach to characterize and model the main acclimation (i.e., physiological) and adaptation (i.e. evolutionary) mechanisms involved in the differential responses of Synechococcus clades/ecotypes to environmental fluctuations, with the goal to better predict their respective adaptability, and hence dynamics and distribution, in the context of global change.
The project associate the Roscoff MaPP team (L Garczarek, C. Six, F. Partensky), the COMBI GROUP from the University of Nantes (Damien Eveillard), the DYLISS team (Anne Siegel) from the University of Rennes and the Roscoff ABIMS platforme (E. Corre, G. Le Corguillé, M. Hoebeke).
MICROB3 2010-2015: Analysis of the composition of cyanobacterial communities from metabarcoding and / or metagenomic data.
METASYN 2009-2014: Sequencing of 32 new Synechococcus sp. genomes.
PELICAN 2009-2013: Influence of pigmentation on the distribution of marine Synechococcus.
education
2004-2005   Master Degree in Genetics and Biodiversity Management, Pierre and Marie Curie University, Paris (75)
2001-2004   DUP Biological Engineering, Plant Production specialty, University of Rennes I (35).
1999-2001   DUT Biological Engineering, Biological and Biochemical Analysis specialty, IUT Quimper (29).
PROFESSIONAL EXPERIENCES
Since 2009       CNRS UMR 7144 Research department.  « Marine Plankton Ecology » research team, Roscoff Marine Station.
2008-2009        Faculty of Medecine, Gliome Brestois group (J.L. Carré and B. Simon), Brest University.
                            Culture and characterization of Glioblastoma cells. Search for cellular markers. Cell proliferation test in the presence of potential drug candidates.
2006-2008        CNRS USR 3151 Research Department, Proteins Phosphorylation and Human Diseases Research Team (L. Meijer), Roscoff Marine Station.
                            Study of the activity of glycogen synthase kinase-3 in Plasmodium falciparum, the agent responsible for malaria. Screening of a collection of natural marine compounds and derivatives. Study of molecules of interest in the parasite in culture.
2005                  CNRS-UPMC UMR 7139 Research Department, Algae genetics Research Team (M. Cock and B. Charrier), Roscoff Marine Station.
                            Genetic analysis of multicellular development in the brown alga Ectocarpus siliculosus, which during its cycle alternates between two morphologically different phases. Research of sporophyte- and gametophyte-specific genes using the DNA chip technique. Sporophytic mutant / wild comparison.
2004                  Molecular Biology Team (S. Boury), Bretagne Biotechnologies Végétales, Saint Pol de Léon.
                            Search for genetic markers to detect the presence of Peronospora parasitica, agent responsible for late blight of cauliflower, by amplification of the ITS sequences of mRNA / Phylogenetic study between different isolates of P. parasitica collected in different regions.
2001                   Marine Invertebrates Team, Molecular Evolution and Adaptation Research Department (A. Van Wormhoudt), MNHN, Concarneau Marine Station.
                            Study of the α-amylase of the oyster Crassostrea gigas. Synthesis and purification of a recombinant protein, from RNA extracted from different tissues.
Publications
Oral communications
Optimisation of mutagenesis in marin picocyanobacteria Synechococcus. Ratin M, Grébert, Partensky F, Kehoe D, Garkzarek L, Assemble JRA3 workshop, Naples 2018.
Thermoregulation of membrane lipid composition in picocyanobacteria : Towards an understanding of adaptation to thermal niches. Breton S, Jouhet J, Pittera J, Doré H, Garkzarek L, Ratin M, Nguyen NA, Partensky F, Marechal E, Six C. 10th European Workshop on Molecular Biology of Cyanobacteria, Cluj-Napoca, Romania 2017.
Publications
A novel species of the marine cyanobacterium Acaryochloris with a unique pigment content and lifestyle. Partensky F, Six C, Ratin M, Garczarek L, Vaulot D, Probert I, Calteau A, Gourvil P, Marie D, Grébert T, Bouchier C, Le Panse S, Gachenot M, Rodríguez F, Garrido JL. Sci Rep. 2018 Jun 14;8(1):9142. doi: 10.1038/s41598-018-27542-7.
Relative stability of ploidy in a marine Synechococcus across various growth conditions.
Perez-Sepulveda B, Pitt F, N'Guyen AN, Ratin M, Garczarek L, Millard A, Scanlan DJ. Environ Microbiol Rep. 2018 Aug;10(4):428-432. doi: 10.1111/1758-2229.12614.
Thermoacclimation and genome adaptation of the membrane lipidome in marine Synechococcus.
Pittera J, Jouhet J, Breton S, Garczarek L, Partensky F, Maréchal É, Nguyen NA, Doré H, Ratin M, Pitt FD, Scanlan DJ, Six C. Environ Microbiol. 2018 Feb;20(2):612-631. doi: 10.1111/1462-2920.13985
Delineating ecologically significant taxonomic units from global patterns of marine picocyanobacteria. Farrant GK, Doré H, Cornejo-Castillo FM, Partensky F, Ratin M, Ostrowski M, Pitt FD, Wincker P, Scanlan DJ, Iudicone D, Acinas SG, Garczarek L. Proc Natl Acad Sci U S A. 2016 Jun 14;113(24):E3365-74. doi: 10.1073/pnas.1524865113.
A gene island with two possible configurations is involved in chromatic acclimation in marine Synechococcus. Humily F, Partensky F, Six C, Farrant GK, Ratin M, Marie D, Garczarek L.
PLoS One. 2013 Dec 31;8(12):e84459. doi: 10.1371/journal.pone.0084459.