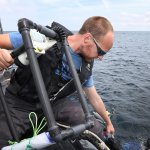 Assistant engineer: monitoring and experimentation in the marine environment on benthic flora and fauna.
research teams
UMI3614 / Evolutionary Biology and Ecology of Algae (25%)
EDYCO / Ecogeochemistry and Coastal Ecosystem Dynamics (50%)
DYDIV / Diversity Dynamics (25%)
scientific interests
- Ecogeochemistry and functioning of the benthic ecosystems.
- Diversity and connectivity in the coastal seascape.
- Evolutionary biology and ecology of algae.
position description
- Organize and implement protocols for sampling and experimentation in coastal environments.
- In situ measurements and instrumentation deployment on the field.
- Development of experimental systems.
background
Since 2016: Assistant engineer in geo-natural and anthropised environment studies, Roscoff Biological Station.
2012-2016: Assistant in scientific instrumentation and experimental techniques, IEES-PARIS. Topic: community diversity and ecosystem functioning (aquatic and terrestrial).