Larval monitoring analysis - Sorbonne University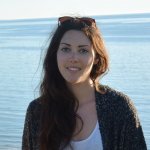 position
My work consists in analyzing the characteristics of the planktonic larval stages of the red lobster (period of presence, lifespan, behavior), the potential links between larval abundances and benthic recruitment and the connectivity between stocks. I also study the larval phase of other crustaceans, such as the cicada, present in the Channel and on the French Atlantic rim.
Main activities :
- Coordinate and implement larval monitoring of red lobster in the Roscoff and Morlaix bay sector
- Ensure the sorting of the collected samples and the analysis of larval abundances
Program:
RECCRU "Recruitment of Crustaceans".
Campaign: Thalassa CGFS 2019 "
Publications
Guillam M., Bessin C., Blanchet-Aurigny A., Cugier P., Nicolle A., Thiébaut É. & Comtet T. 2020. Vertical distribution of brittle star larvae in two contrasting coastal embayments: implications for larval transport. Scientific Reports. 10: 12033.  10.1038/s41598-020-68750-4