Technicienne Observation Benthique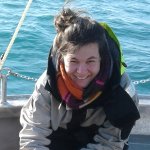 Missions :
Traitement des échantillons de macrofaune benthique au laboratoire par du tri de sédiment et détermination préliminaire des organismes animaux sur le projet REBENT et Suivi substrat meubles Baie de Morlaix
Analyses sédimentaires avec analyses granulométriques et teneurs en matière organique sur le projet REBENT et Suivi substrat meubles Baie de Morlaix
Préparation et conditionnement d'échantillons biologiques en vue d'analyses isotopiques ultérieures
Préparation et participation aux campagnes d'échantillonnages en mer
Études :
Technicien supérieur de la Mer en Génie de l'Environnement Marin à Intechmer
Master sur les Environnements Insulaires et Océaniens à l'UMPC et UPF
Publications :
Laurène Mérillet, Maud Mouchet, Marianne Robert, Michèle Salaün, Lucie Schuck, Sandrine Vaz and Dorothée Kopp., « Using underwater video to assess megabenthic community vulnerability to trawling in the Grande Vasière (Bay of Biscay) »., 2018., Environnemental Conservation., Vol 45(2), pp. 163-172.
Gilles Le Moullac, Lucie Schuck, Sébastien Chabrier, Corinne Belliard, Pierre Lyonnard, Floriane Broustal, Claude Soyez, Denis Saulnier, Chloé Brahmi, Chin-Long Ky and Benoit Beliaeff., « Influence of temperature and pearl rotation on biomineralization in the pearl oyster, Pinctada margaritifera »., 2018., Journal of Experimental Biology., Vol 221.