Professor, Sorbonne University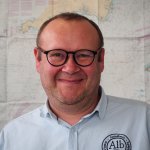 Professeur à l'UPMC ; Directeur-adjoint de la Station Biologique
directeur de l'OSU et de l'Ecole Interne 937 ;
Enseignant-chercheur en écologie benthique et en océanologie biologique
Travaux de recherche centrés sur l'étude de la dispersion larvaire et la dynamique spatio‐temporelle des peuplements macrobenthiques
Parcours professionnel
2012 : Habilitation à diriger des recherches, Sciences de la Vie et de la Santé, UPMC
1995- présent : enseignant-chercheur à l'UPMC
2006- présent : Laboratoire 'Adaptation et Diversité en Milieu Marin' UMR7144, Station Biologique de Roscoff
2003‐2005 : Laboratoire 'Biologie des Organismes Marins et Ecologie' (MNHN)
1995‐2002 : Laboratoire d'Océanographie de Villefranche/mer
1994‐1995 : Contrat post‐doctoral au département d'Océanographie de l'Université de Southampton
1990-1994 : Thèse de doctorat en océanologie biologique à l'UPMC
 
Publications
Le Mao P., Desroy N., Fournier J., Godet L., Thiébaut E. (2018) De la nuisibilité à la patrimonialité en milieu marin : l'histoire d'une ambiguïté entretenue. Actes du colloque de l'AHPNE Sales bêtes! Mauvaises herbes! "Nuisible", une notion en débat. Presses Universitaires de Rennes (sous presse).
Gallon R.K., Lavesque N., Grall J., Labrune C., Grémare A., Bachelet G., Blanchet H., Bouchet V., Desroy N., Gentil F., Guérin L., Houbin C., Jourde J., Laurand S., Le Duff M., Le Garrec V., Orvain F., Sauriau P.-G., Thiébaut E., Gauthier O. (2017) Regional and latitudinal patterns of macrobenthic invertebrates along the French coast : results from the RESOMAR database. J. Sea Res., http://doi.org/10.1016/j.seares.2017.03.011.
Robuchon M., Valero M., Thiébaut E., Le Gall L. (2017) Multi-scale drivers of community diversity and composition across tidal heights: an example on temperate seaweed communities. J. Ecol., http://doi.org/10.1111/1365-2745.12781.
Nicolle A., Ogor J., Moitié R., Dumas F., Foveau A., Foucher E., Thiébaut E. (2017) Modelling larval dispersal of Pecten maximus in the English Channel: a tool for the spatial management of the stocks. ICES J. Mar. Sci., 74, 1812-1825.
Charles M., Mongruel R., Beaumont N., Hooper T., Levrel H., Thiébaut E., Pendleton L. (2016) Towards effective coastal and marine ecosystem service assessment in marine management. In Potschin M., Haines-Young R., Fish R. and Turner R.K. (eds) Routledge Handbook of Ecosystem Services. Routledge, London and New York. pp. 359-373.  
Dubois S.F., Dérian F., Caisey X., Rigolet C., Caprais J.C., Thiébaut E. (2015) Role of pockmarks in diversity and species assemblages of coastal macrobenthic communities. Mar. Ecol. Prog. Ser., 529, 91-105.
Rigolet C., Thiébaut E., Brind'Amour A., Dubois S.F. (2015) Investigating isotopic functional indices to reveal changes in the structure and functioning of benthic communities. Funct. Ecol., 29, 1350-1360.
Gaudron S.M., Marqué L., Thiébaut E., Riera P., Duperron S., Zbinden M. (2015) How are microbial and detrital sources partitioning among and within gastropods species at East Pacific Rise hydrothermal vents? Mar. Ecol., Suppl. 1, 18-34.
Cabral P., Levrel H., Schoenn J., Thiébaut E., Le Mao P., Mongruel R., Rollet C., Dedieu K., Carrier S., Morisseau F., Daures F. (2015) Marine habitats ecosystem service potential: a vulnerability approach in the Normand-Breton (Saint Malo) Gulf, France. Ecosyst. Serv., 16, 306-318.
Rigolet C., Thiébaut E., Dubois S.F. (2014) Food web structures of subtidal benthic muddy habitats: evidence of microphytobenthos contribution supported by an engineer species. Mar. Ecol. Prog. Ser., 500, 25-41.
Jolly M.T., Thiébaut E., Guyard P., Gentil F., Jollivet D. (2014) Meso-scale hydrodynamic and patch selection affect the source-sink metapopulation functioning of the coastal polychaete Pectinaria koreni. Mar. Biol., 161, 367-382.
Rigolet C., Dubois S.F., Thiébaut E. (2014) Benthic control freaks: effects of the tubicolous amphipod Haploops nirae on the specific diversity and functional structure of benthic communities. J. Sea Res., 85, 413-427.