© Gabriel Markov et Glen Pansard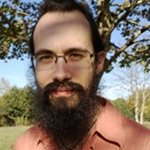 Evolution des voies métaboliques chez les algues rouges et brunes
Je m'intéresse à l'évolution des voies métaboliques, par le biais d'approches intégrant l'évolution d'enzymes et la distribution des métabolites parmi les êtres vivants. Mon objectif est de développer des méthodes d'analyse permettant d'aborder l'évolution des voies métaboliques directement à ce niveau d'abstraction. Après avoir travaillé sur la signalisation stéroidienne dans le cadre de ma thèse puis sur l'évolution de la synthèse des phéromones ascarosides chez les nématodes, je me consacre depuis septembre 2015 à la reconstruction de la carte métabolique de l'algue rouge Chondrus crispus dans le cadre du WP4 d'IDEALG.
Publications
Markov GV, Meyer JM, Panda O, Artyukhin AB, Claaßen M, Witte H, Schroeder FC, Sommer RJ. Functional conservation and divergence of daf-22 paralogs in P. pacificus dauer development. Molecular Biology and Evolution, sous presse.
Markov GV, Baskaran P, Sommer RJ. 2015. The same or not the same: Lineage-specific gene expansions and homology relationships in multigene families in nematodes. Journal of Molecular Evolution, 80, 18-36.
Bose N, Meyer JM, Yim JJ, Mayer MG, Markov GV, Ogawa A, Schroeder FC, Sommer RJ. 2014. Natural Variation in Dauer Pheromone Production and Sensing Supports Intraspecific Competition in Nematodes. Current Biology 24, 1–6, July 7.
Markov GV, Laudet V. 2011. Origin and evolution of the ligand binding ability of nuclear receptors, Mol Cell Endocrinol, 334(1-2):21-30.
Markov GV, Tavares R, Dauphin-Villemant C, Demeneix BA, Baker ME, Laudet V. 2009. Independent elaboration of steroid hormone signaling pathways in metazoans. Proc Natl Acad Sci U S A. 106:11913-8.
Markov G, Lecointre G, Demeneix B, Laudet V. The "street light syndrome", or how protein taxonomy can bias experimental manipulations. Bioessays. 2008 Apr;30(4):349-57.